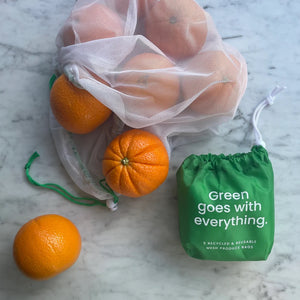 These mesh produce bags aren't quite as fun as the rest of the bags on the site….but….bringing them to the market, bulk store or  supermarket will still lift the mood with some pretty GOOD ECO VIBES! 
As the storage pouch says – "green goes with everything". 
Minimise the plastic you, or whoever does the grocery shopping, brings home and use these for your fresh produce.  
Plus who has time (& patience) trying to get the ridiculously thin plastic bags open at the shops?
High fiving yourself already?  You SHOULD be.
Need more than 5 produce bags?  Go for the two pack!  (We LOVE fruit and veg in our house too!)
The product is made from light, durable RECYCLED Plastic (RPET).  It's mostly made from plastic bottles that undergo what can only be described as a SPECTACULAR process to be made into a very strong & durable fabric.
Plus – the SORCERY doesn't end there.  For each produce bag set purchased, a tree will be planted that will sequester carbon from the atmosphere and contribute to a bright future.  🌱 #buyoneplantone 🌱
Each bag holds up to 2kg of produce and only weighs 20g.
Fruit and Vegetables can breathe in the bag (unlike single use plastic).
You can see through the mesh which allows staff to see the produce.
The bags are washable - you can handwash or wash the bag on cool cycle if needed.
Each bag is sized 40cm x 35cm.
Drawstring closure with toggles.
Pack of 5 per pouch.
Fab!
Really good size and feel like good quality too. I was eyeing these up for ages and wish I'd committed sooner!
Pledging to go green!
I've always felt bad using the plastic bags provided by the supermarket for my fruits and vegetables. So when I stumbled upon these produce bags, I just knew I had to get them! Not only are the quality of the bags great, but now I get to do my part to be a little greener and kinder to our environment!